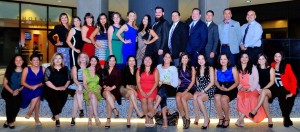 Valle del Sol is proud to announce the Hispanic Leadership Institute (HLI) Class of 2015, comprised of 31 emerging leaders from the public, nonprofit and private sectors, who will gain the knowledge and tools to have a positive impact as leaders within their respective organizations and in the community.
The Hispanic Leadership Institute is a comprehensive and culturally-relevant leadership program in partnership with ASU's College of Public Service & Community Solutions. HLI's mission is to promote the individual development of Hispanics for increased participation in leadership roles. The curriculum builds from participants' experiences, emphasizing personal and professional development with sessions focusing on cultural and personal identity; serving on a board; ethics and media training.
"Through Valle del Sol's Hispanic Leadership Institute, we are developing leaders that will be strong advocates on issues impacting our Arizona community," said Kurt Sheppard, Valle del Sol's President and CEO.
Link: http://www.valledelsol.com/introducing-the-hli-class-of-2015/