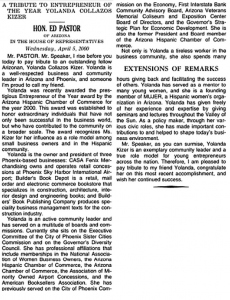 Mr. Speaker, I rise before you today to pay tribute to an outstanding fellow Arizonan, Yolanda Collazos Kizer. Yolanda is a well-respected business and community leader in Arizona and Phoenix, and someone I'm proud to call my friend.

Yolanda was recently awarded the prestigious Entrepreneur of the Year award by the Arizona Hispanic Chamber of Commerce for the year 2000. This award was established to honor extraordinary individuals that have not only been successful in the business world, but who have contributed to the community on a broader scale. The award recognizes Ms. Kizer for her influence as a role model among small business owners and in the Hispanic community.

Yolanda is the owner and president of three Phoenix-based businesses: CASA Fenix Merchandising owns and operates retail concessions at Phoenix Sky Harbor International Airport; Builder's Book Depot is a retail, mail order and electronic commerce bookstore that specializes in construction, architecture, interior design and engineering books; and Builders' Book Publishing Company produces speciality business management texts for the construction industry.

Yolanda is an active community leader and has served on a multitude of boards and commissions. Currently she sits on the Executive Committee of the City of Phoenix Sister Cities Commission and on the Governor's Diversity Council. She has professional affiliations that include memberships in the National Association of Women Business Owners, the Arizona Hispanic Chamber of Commerce, the Arizona Chamber of Commerce, the Association of Minority Owned Airport Concessions, and the American Booksellers Association. She has previously served on the City of Phoenix Commission on the Economy, First Interstate Bank Community Advisory Board, Arizona Veterans Memorial Coliseum and Exposition Center Board of Directors, and the Governor's Strategic Plan for Economic Development. She is also the former President and Board member of the Arizona Hispanic Chamber of Commerce.

Not only is Yolanda a tireless worker in the business community, she also spends many hours giving back and facilitating the success of others. Yolanda has served as a mentor to many young women, and she is a founding member of MUJER, a Hispanic women's organization in Arizona. Yolanda has given freely of her experience and expertise by giving seminars and lectures throughout the Valley of the Sun. As a policy maker, through her various civic roles, she has made important contributions to and helped to shape today's business environment.

Mr. Speaker, as you can surmise, Yolanda Kizer is an exemplary community leader and a true role model for young entrepreneurs across the nation. Therefore, I am pleased to pay tribute to my friend Yolanda, congratulate her on this most recent accomplishment, and wish her continued success.